Everyone needs some PINK in their life
Everyone needs some PINK in their life
We are taking a break!
As a one women show, when I go on vacation, PINKISH goes too! 😬
We will be back in June, if you have any questions or inquiries, please send us a message on social media or pinkishbym@gmail.com
XOXO

Marcela M
High quality & meaningful pieces
so you can treat yourself & your friends with last longing and affordable new accessories.
PINKISH LOVES TO TRAVEL, AND YOU?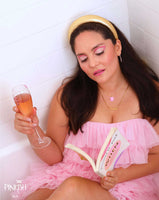 "Because YOU want, YOU can and YOU deserve it"
PINKISH M GIRLS ARE SAYING...
So in love with my "OH Mexico" necklace

Valeria Maldonado (Actress)
I'm loving "You are Beautiful" necklace sooo much, it makes me feel good"

Nikki Winston (Traveller)
Thank you so much. I absolutely love my earrings (I C YOU Hoops)

Mariella Fajardo (LBM Lash studio owner)